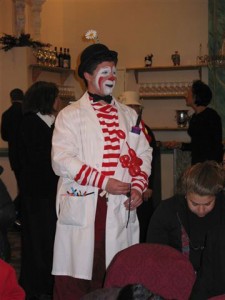 Inspired by the work of medical clown Dr. Patch Adams, psychologist Dr. Neal Goldberg began Lev Leytzan-Heart of a Clown to help teens and young adults discover how giving of oneself can lead to positive new directions.
Doctors, mental health professionals and professional clowns lead an extensive clown training program for program participants in the New York area.
Lev Leytzan's Ambassador Program sends young clowns abroad to spread joy to isolated elderly men, women and children. Their newest program, ElderHearts, is directed specifically to people with various types of dementia.
Our funds were directed to help develop the ElderHearts program.