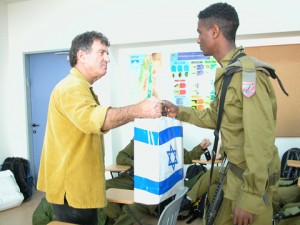 Lt. Colonel Tzvika Levy (Ret.) has assumed the role of family, mentor and confidante to some of Israel's 5,000 lone soldiers, hayalim bodedim, who are mostly foreign volunteers in Israel's army with no family nearby.
A warm, compassionate man who cares for his charges as if they were his own relatives, he works primarily with soldiers on kibbutzim and those from families in need.
Tzvika does not only what is expected of him, but much more. The donor-designated grants that we receive for Tzvika's work buy simple items-fans, shavers, fleece jackets or heaters-whatever adds comfort to a rigorous and often dangerous tour of duty.