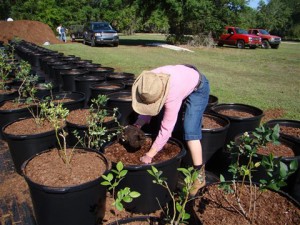 Sergeant Adam Burke, founder of Veterans Farm, learned the healing power of farming from his own experience as a disabled combat veteran. Knowing how working the land helped him to heal, Adam wanted to give other injured veterans the same chance to recover from trauma.
Today, Veterans Farm, located in Jacksonville, Fla., operates two blueberry farms where disabled veterans work in the fields, planting, tending and harvesting. Home to several military bases, Jacksonville also has many injured vets who can benefit from working on the farm.
With our funds, Adam purchased a greenhouse where thousands of plants now flourish.