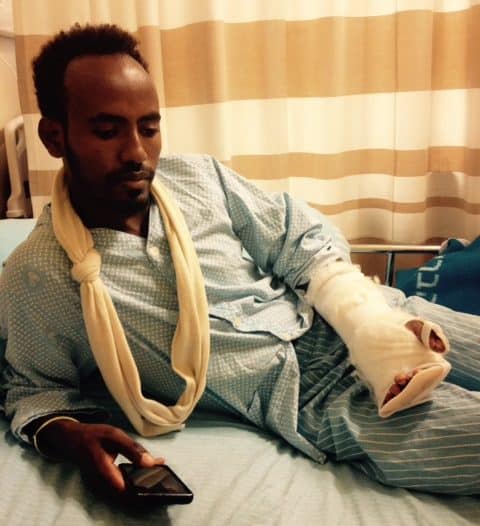 For those of you who have followed this blog over the years, you may recall the tragic story of Awaad, a young man the Good People Fund was able to help throughout his extraordinary journey. After escaping what would have been a lifetime of conscription  in his native Eritrea, Awaad found his way to Sudan. Kidnapped by Bedouins, he was held for ransom in the Sinai, imprisoned in Israel's Holot prison for two years, and eventually ended up on the streets of Tel Aviv.
In 2015 our friend, Gideon Ben Ami of Pesia's Kitchen met Awaad at the hospital after hearing a news story about the young Eritrean who was attacked by a mentally deranged man wielding a machete, and brought to the hospital with his hand completely severed from his arm. Because of Gideon's compassion and with the additional help of doctors and some good people from Zichron Yakov, Awaad recovered after his hand was reattached. With further help from others, Awaad received political asylum in Switzerland a few years later.
One would think that this would be the happy ending to a tragic story but, alas, it was not.  Awaad spent three years in Switzerland in a restricted compound where he could not work, and developed tuberculosis. Again, by some miracle he recovered and eventually managed to reach England where yesterday, after six months, his journey at last reached an end…"he received notification that he has been legally accepted into the British Isles! He will be allowed to work, study English free, live in England where he chooses, and in a month be able to get a British passport, and if all goes well, will become a British citizen in 5 years."
Very rarely does the Good People Fund get to hear the end of the story where we were stepped in and helped save someone's life. This was one of those exceptions and we could not be more grateful to the donors who give us the tools to make such miracles possible.