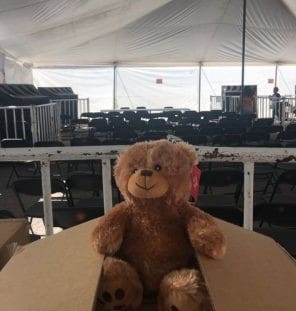 A few weeks ago, before the city of El Paso gained a tragic notoriety never expected, we wrote of Dr. Eva Moyo, a professor of social work at UT-El Paso who could not stand idly by while migrants–men, women and children–poured into the city with nothing more than the clothes on their backs.
As Dr. Moyo learned of items needed, we sent her on a shopping trip. The list was long. In addition to the expected soap, diapers, underwear and toothpaste, were more specific items that spoke to the unique needs of people who may have walked days seeking safety–vitamins,  anti-fungal cream, foot powder,  triple antibiotic cream and more.
Thanks to the generosity of congregants at Temple Israel-Ner Tamid in Mayfield Heights, Ohio, children on the border have benefited from another important item…a cuddly Teddy Bear to calm fears and stop tears.