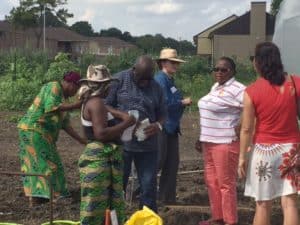 The news from Houston these past few months has been anything but positive with much of the city affected by the epic Hurricane Harvey. And yet, this morning we received this amazing picture featuring some of the new students in Plant it Forward's latest class of aspiring farmers seeking to return to the agrarian life they left behind when migrating to this country. The Good People Fund's matching grant has helped make this class of 22 possible.
Teresa O'Donnell began Plant it Forward to teach organic farming to refugees whose crop is then sold at local farmers markets and farm stands, as well as through farm shares (or CSA groups) and to restaurants; all meaningful ways to create employment and provide Houston with fresh, local produce.
It's great to see some return to normalcy in a region that was devastated so cruelly only a short time ago.