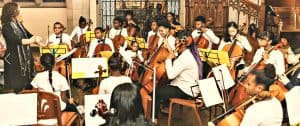 Growing up in inner-city San Diego, Bithyah Israel had the chance to learn to play cello, and it changed her life. Wanting youth in urban Boston to have the same opportunity, she founded City Strings United. Now celebrating its tenth year, the Roxbury-based program enlists the help of volunteer teachers and rented instruments to teach children ages 3-15 leadership and life skills along with music. "I really see a brightness with our students," says Bithyah, "Our program has really inspired the kids and the parents."
City Strings showed resilience during the pandemic by successfully pivoting to online instruction, increasing impact through remote instrument support and individualized lessons —and even an end-of-year concert. In addition, care including mugs, hot chocolate, bagels and other treats delivered to students raised their spirits.
Our grant provides music syncing software that enhances online learning, as well as funds for a marketing video.