Using Horses to Teach Detroit Youth Critical Skills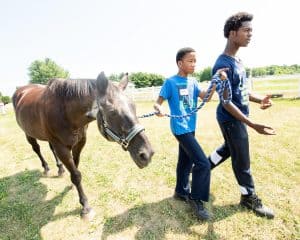 As a former Teach for America participant, David Silver learned very quickly about the unique and serious issues facing kids growing up in a once-thriving city that is only now starting to experience renewal.
Combining his own lifelong passion for horses and equestrian skills, with a strong desire to help the city's youth, David began Detroit Horse Power which teaches important life-building skills. At the same time, the program helps build a stronger community. In just three short years DHP has gone from a pilot summer camp program for 18 kids, to its present program that attracts more than 100 kids over eight weeks of summer programming.  Through riding and caring for horses, urban youth learn empathy, confidence, responsible risk-taking and more.  With the availability of large plots of abandoned property, DHP's plan to build a new urban equestrian center will provide kids with year-round programming and also provide the city with further renewal.  Our funds help with the cost of staffing.