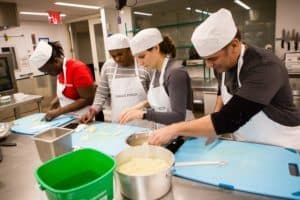 "New American cuisine — prepared by new American students."
Inspired by the poetry of activist Emma Lazarus, Kerry Brodie founded Emma's Torch to provide culinary training to refugees, asylees and survivors of human trafficking, helping them find meaningful careers and build better lives. Students' skills are perfected at the Brooklyn restaurant and at a café at the Brooklyn Public Library. Kerry says, "Our students have overcome hardships, but they are also unique individuals with hopes and dreams … We want to make sure we can restore that dignity and that humanity." To date, more than 100 students have completed the program with a 97% job placement rate.
Despite the pandemic, Emma's Torch has two new program tracks, a reinvigorated culinary training program and full-service dining resuming in the Fall of 2021. Our funds are directed to underwriting student-prepared meals for local agencies, and providing for students' Covid-related needs.