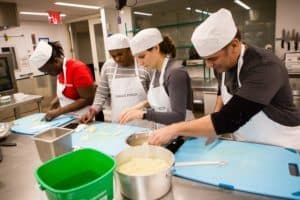 You can't miss it: the restaurant on a quiet Brooklyn corner has a huge window facing the street, emblazoned with the words: "Empowering Refugees Through Culinary Education."
This is Emma's Torch – named after poet and activist Emma Lazarus, whose words grace the Statue of Liberty.  Refugees practice newly-acquired culinary skills to popular acclaim, and build a promising future for themselves in America.  It's the creation of Kerry Brodie, herself a graduate of the Institute of Culinary Education who worked for a time in the human rights sector.
Her organization, which shares the name of the restaurant, and also a cafe at the Brooklyn Public Library, provides culinary arts education – and also ESL and interviewing skills – to refugees, asylum seekers and human trafficking survivors to propel them into NYC's vibrant food industry.  Cooking and sharing food, she says, "is one of the most defining characteristics of being human," and can help alleviate suffering and divisiveness. Our grant supports "soft skills" training, such as interview skills building.