Personal Health Items and Bras for Homeless and Low-income Women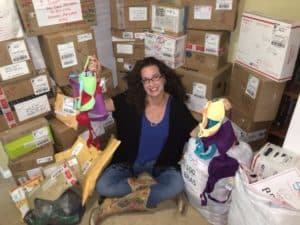 For Dana Marlowe, founder of Support the Girls, it was weight loss that opened her eyes to a great unmet need: Her bra saleswoman shared that many homeless women cannot afford to purchase bras or necessary personal hygiene products. Armed with her typical "let's fix it" approach and a drawer filled with bras that no longer fit, Dana put out a call to friends and family via social media. She asked for items they no longer used in addition to personal hygiene products. As that first appeal went viral, Dana was quickly inundated with boxes and boxes of goods. Clearly she had struck a chord with women across our country, as well as abroad.
Dana's passion, intelligence and can-do attitude made it possible for her to build the foundation for a national organization that is harnessing the energy of so many others who believe this is a need that should be resolved. Dana's actions have already inspired so many people and gained the attention of national media, and her initiative is  growing exponentially. Imagine how many more homeless women will gain dignity and comfort because of the "bra fairy."
With the Good People Fund's matching grant, as well as ongoing mentoring, in one year, Support the Girls has not only collected (as of late August) more than 20,000 bras and 50,000 personal hygiene products, but has also established local branches in nine cities across this country, in addition to Canada, Australia and Pakistan.