Welcoming the Stranger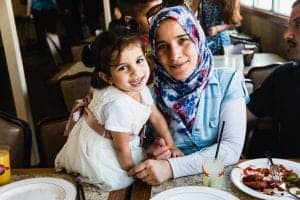 Sloane Davidson founded Hello Neighbor to improve the lives of an enormous influx of refugees recently resettled  in Pittsburgh, a city with a long history of welcoming newcomers to its community.  After spending 15 years in the nonprofit world focusing on women, girls and education, Sloane now directs her energies to the refugee crisis to help support this under-served community.
During what can be a time of transition and insecurity, Hello Neighbor matches families with local mentors/neighbors who guide and support them in their new lives.  The 72 families from 11 countries (98% with a child under 18 in the home) may learn how to write a check or improve their English, play in the park or attend a baseball game.  It's not a huge time commitment – only about 10 hours a month – but the relationships and friendships formed are lifelong. Our matching funds are being used to help underwrite a conference Hello Neighbor has convening so that similar organizations throughout the country can discuss best practices.