Using animals and music to soothe the soul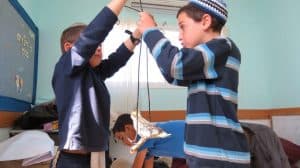 As Israel's southern tier endured another round of rocket attacks earlier this summer, we realized once again the significance of Shay Agmon's work in Nir Akiva, a community only nine miles from the Gaza border. Shay is a masterful animal-assisted therapist who studied under the direction of grantee, Avshalom Beni, founder of HAMA-Humans and Animals in Mutual Assistance.
Shay combines his teaching certification, musical talents and therapeutic skills to help kids with PTSD, learning disabilities and emotional issues brought about by ongoing rocket attacks.  With the help of birds and rabbits and his magical flute, Shay helps children at the local school express their fears and anxieties in a safe and nurturing environment. Parents and teachers report remarkable behavioral changes in the children.