Using Animals and Music to Soothe the Soul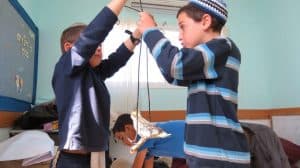 Shemesh, Shuki, Koko and Condor are parrots engaged in an extraordinary program that heals children who live in fear as rockets fly overhead. The parrots (and the humans) live in Shavei Darom, a tiny religious community on the border with Gaza in the remote Negev region of Israel. The families, originally from Kfar Darom in Gaza, were relocated to this area in 2005.
This ground-breaking animal-assisted therapy program is run by Shay Agmon, a musician, composer and gentle soul who has adapted traditional therapy techniques to include birds and bunnies that are culturally acceptable to local families.  Rocket attacks continue and yet we still hear amazing stories of children with PTSD who succeed in school, no longer wet their beds or act out with aggression. A new Father-Son program has broken down barriers between parent and child whose relationships were strained by the trauma of living in such a tense and unsettled region. Our funds help underwrite this program's modest costs.