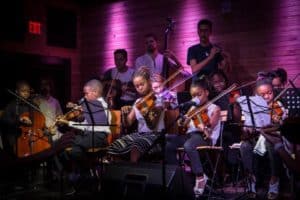 Music is fundamental to the culture of New Orleans, a city steeped in musical traditions. But, for the many schools that lack funds for music education, Make Music NOLA fills the void with tuition-free programs for qualified students (those eligible for free or reduced lunch). Headed by Laura Patterson, MMN reaches and empowers hundreds of students, creating a community of creativity, teamwork and friendship. As one teacher describes, string instrument lessons — with classical and operatic as well as folk, Creole and Mardi Gras songs — "give students an opportunity to broaden and understand who they are."
During the pandemic, MMN staff shifted quickly to online lessons, creating virtual instructional videos, and even building curriculum content. Their hybrid model includes in-school and virtual strings classes, virtual masterclasses, summer intensives, and in the fall of 2021, outdoor and socially distanced programs.
Our funds underwrite teachers' salaries.