Inspiring, Engaging & Empowering Students Through Music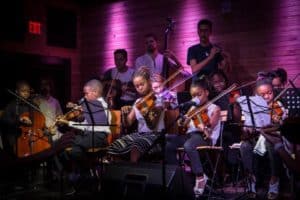 New Orleans and music are synonymous. So it's no coincidence that Make Music NOLA has successfully brought tuition-free music training to students (all of whom qualify for free or reduced lunch) in low-income communities in the New Orleans area.  Laura Patterson, herself a musician, has taken these award-winning in-school and after-school programs to new heights. Dedicated volunteers and paid instructors not only cultivate artistic expression and academic achievement, but also promote healthy growth and development.  Currently there are over 120 students, aged 7-17, each of whom receive over 100 hours of music instruction and perform in four to six community based concerts.
That's music to our ears – and we are proud that our matching funds will help them inspire even more students.