Reaching Out to an Impoverished Community in Appalachia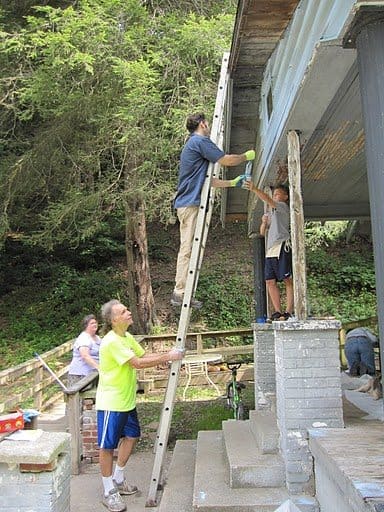 "We are trying to make a little corner of the world slightly better, sooner, for some of these people," says one volunteer on what was our seventh trip to Appalachia.  Indeed, that is exactly what we do.
In June 2017, a GPF volunteer corps of nearly two dozen people from around the country traveled to McRoberts, KY, ready for work.  They unloaded a massive truck of donated food, they painted and spruced up the house of a recently widowed woman.  They began to construct a long and winding ramp for a man with multiple handicaps who could rarely leave his home atop a steep hill. (The job was completed by the good people of Congregation Shaarei Shomayim in Lancaster, PA, our partners of many years.)
Those were the tangibles. But the delivery of hope and compassion to this tiny isolated community may be more important.
"What The Good People Fund does here means more than you could even imagine," says Susie Duncan, our contact in McRoberts. "To realize there are people in the world who care about us and our wellbeing gives hope to a very cut-off community."