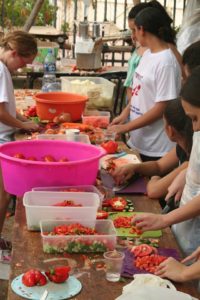 Even as an idealistic teen, Ravit wanted to "help feed people who cannot feed themselves," including elders, Shoah survivors, families with children in hospital, and others. She started by providing holiday food to six families. Today, Dr. Ravit Hilleli, a young mother and a resident completing her training in psychiatry, has seen her childhood dream turn into something much bigger. Her all-volunteer program supplies prepared, high-quality holiday meals to more than 5,000 people across the country for Pesach, Shavuot and Rosh Hashanah. An army of volunteers—about 8,000 strong—cook, shop, and deliver meals during a 48-hour period immediately before the chaggim begin.
Ravit's calm demeanor and strong organizational skills make this seemingly impossible task possible.
Our funds are directed to the purchase of some of the items on her very long shopping list.