Saving Food, Saving the Planet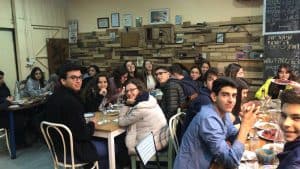 We know what happens in our own refrigerators when slightly bruised or blemished fruit and vegetables might accumulate – they often go to waste.  But what happens at supermarkets or large wholesalers where less-than-perfect tomatoes, cucumbers or pears might be found? For Shai Rilov and chef Koby Carolla the answer was Robin Food, a program that raises awareness of food waste through its vegan restaurant in the Haifa market.
In a country where produce is grown in great abundance and an estimated 35% of food goes to waste, Robin Food is the perfect response. Community-driven and staffed by a large cadre of international volunteers, this popular restaurant attracts not only locals but tour groups from around the world. Prominent on the counter is a "pushke" (tzedakah box) where diners pay what they can for a meal that rivals more traditional, upscale restaurants.
Robin Food's motto "Save food, eat well, change the world" is a most appropriate description for this good work. Our matching funds are used for capacity-building.