Fighting Cancer in Israel's Periphery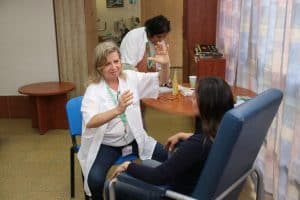 Keren Tova-Gemel searched for a way "to do something meaningful to expand the circle of giving, for those of limited means."  She began to fulfill her mission when she founded Ruach Dromit ("Southern Wind" in Hebrew).  Now, thousands of cancer patients living in the remote Negev have access to alternative therapies that, research shows, can reduce the physical, emotional, and even economic stress that come with a cancer diagnosis.
The only center of its kind in the Negev, Ruach Dromit, in conjunction with conventional hospitals, offers patients including the homebound, personalized treatment and support.  Services include massage, reflexology, acupuncture, holistic psychotherapy, nutrition counseling, workshops, and more – for free, or a nominal fee. Since most therapists are volunteers, our funds help underwrite minimal administrative expenses.