Shelter Music Boston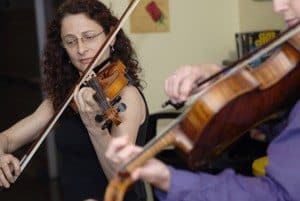 "We know the concerts transform our audience. People feel hopeful. People feel relaxed. People feel that someone is taking them seriously and looking them in the eye with high quality artistic interaction," says Julie Leven, founder of Shelter Music Boston. Playing concerts in unlikely venues, the classical musicians of SMB bring uncommon joy to residents of Boston-area shelters. A respite from dealing with daily struggles, residents describe the music as calming and soothing. Over the last eleven years, hundreds of concerts have touched the lives of thousands, including children and even the musicians themselves.
During the pandemic, live monthly chamber music concerts were replaced with virtual concert programs, and new partnerships were formed with additional homeless services and recovery organizations.
Our funds support children's programming.