Ending Hunger on College Campuses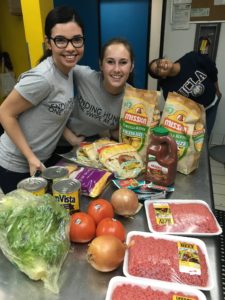 It is disturbing that 1 in 7 college students worry about where their next meal may come from. In California, Rachel Sumekh's home state, that number is even more troubling–1 in 3 struggle with hunger insecurity daily. To change that reality, in 2009 Rachel and her friends at UCLA began using their meal cards to purchase sandwiches which they distributed to hungry people along the city's streets. Eventually, the number of meals purchased with meal points reached a staggering 15,000.
With so much unused funding left on students' cards, what better way to feed hungry people throughout the community and on campus. Today, Rachel's organization, Swipe Out Hunger has begun a revolution dedicated to empowering students on campuses across the country to end hunger and homelessness.  In addition to the more than 26 campuses now participating, Swipe Out Hunger also advocates to raise awareness of the problem in state legislatures. Our funds help implement campus programs.