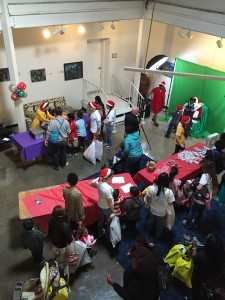 Picture a huge building filled to capacity with 750 eager kids, 450 volunteers, Santa Claus, a room full of toys, pizza, fresh fruit, homemade desserts and plenty of music to get everyone in the holiday spirit—that's Amy's Holiday Party, a signature event of Creating Connected Communities. At the age of 12, Amy Sacks (now Amy Sacks Zeide) was stunned to learn of the theft of holiday toys at a local shelter. She immediately donated some funds to help replace those toys and the next year, as a Bat Mitzvah project, organized Amy's Holiday Party which gathers kids from local social service agencies and offers them a fun day ending with the gifting of toys and games. This year's party was Amy's 20th and we were thrilled (and a bit overwhelmed) to be present and experience what can only be called an extravaganza. Nearly 2000 volunteer hours go into planning the party which offers multiple activities like face-painting, cookie decorating, all manner of arts and crafts and so much more.
What makes this event even more meaningful is that teens are responsible for much of what takes place. Amy's organization, Creating Connected Communities, provides leadership training to local teens with a curriculum that focuses on homelessness and advocacy. The holiday party is part of the program.
We knew Amy's story from many years ago and were not surprised to finally meet a gracious young woman who hasn't forgotten how small actions can have a significant impact.