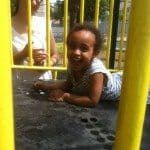 The smile says it all. In Tel Aviv this morning a group of compassionate volunteers from the picturesque town of Zichron Yaakov partnered with the Good People Fund and Tzimaon, one of our grantees, to offer a carnival-like day to dozens of African refugee kids from a local gan (daycare center).  Gideon Ben Ami, our tireless man-of-many-compassionate-talents helped arrange the adventure. The kids who  spend hours daily in a window-less room, reveled in the bright sunshine and the volunteers' undivided attention. To make it even more exciting, popsicles and a magic act capped off the day.
We've already received notes from volunteers attesting to the fun they had and the wish to be part of the next fun day.
We hope it happens soon!