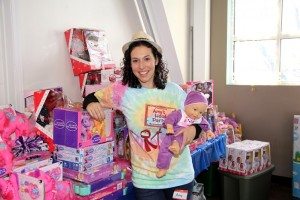 We love to hear from Amy (Sacks) Zeide, particularly after her famous Amy's Holiday Party is over. This extraordinary Atlanta event (now in its 21st year–Amy was 12 when she started this in response to the theft of holiday toys from a local shelter– and part of Amy's organization, Creating Connected Communities) brings together hundreds of local kids for a day of games, dancing, food and gifts to celebrate the holiday season. Coordinating the entire day are teen volunteers. Amy wrote today: "I want to thank you and The Good People Fund for everything you did to help us provide for so many children in need and offer so many meaningful teen volunteer opportunities… With your support, we were able to rent a larger tent to expand our party space.  This will be the last year at this facility but the tent was a tremendous help to keep everything running smoothly.  We also hired a 4th bus to transport more volunteers…In 2016 we have plans to put a 5th program on our calendar and develop our leadership training curriculum to include more Jewish teens"
We are excited about helping Amy. She is exactly what the Good People Fund is all about.
Now check out the great gifts the kids received!