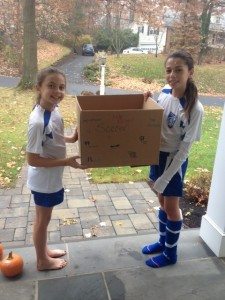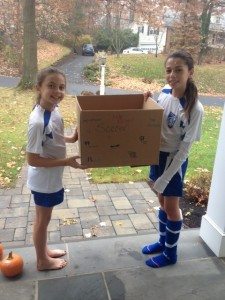 In the soccer world an "assist" is a pass that ends in a goal. Recently, we became involved in an effort where more than one assist has helped kids in California who love soccer but cannot always partake because of their family's limited resources.
 It all started when the Millburn (NJ) Rowdies wanted to honor their favorite coach and that is where the Good People Fund stepped in to help.
 When we thought of kids who might enjoy soccer we immediately remembered all of the children we met last year when visiting Sunday Friends in San Jose, CA. Sunday Friends runs a twice-monthly program in a local school that attracts the area's poorest families (mostly first or second generation immigrants). The families work with volunteers "empowering families in need to break the cycle of poverty. Children and parents earn basic necessities while they contribute to their community, learn life skills and develop self-sufficiency." We were sure that the Rowdies' tzedakah collection could be used to purchase soccer equipment for some of the kids and Janis Baron, the organization's founder, agreed.
 The Rowdies' generous monetary donation has made it possible for Sunday Friends' to purchase new cleats, soccer balls, knee pads and more. But — what happened next was even more exciting. The Rowdies, and several other teams inspired by their efforts, decided to collect "outgrown" equipment which will be sent to Sunday Friends.  Sydney Rosenbaum (pictured here with her sister), soon to celebrate her Bat Mitzvah, has taken on the job of collecting equipment for the Rowdies.  We expect a large shipment will go out to Sunday Friends for the upcoming holiday season.
We bet there is lots of gently used soccer equipment just waiting to find a new home…