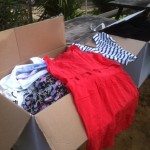 We often share stories about our friend Gideon Ben-Ami, who works hard each day to feed hungry people in Tel Aviv. With the help of generous businesses that donate their leftovers as well as Leket, Israel's national food bank, that donates nearly one ton of fresh produce each week, and with the Good People Fund's help Gideon has built a successful little organization that operates on a shoe-string and really does save lives in many different ways.
In an email received from Gideon yesterday he described a surprise delivery that had just arrived–40 cases of brand new mens', womens' and kids' clothes donated by one of Israel's largest retail chains. We didn't quite understand the scope of this bounty until this morning when pictures arrived. With a third of the 40 boxes already distributed to local agencies, by the end of the week Gideon expects to have everything in the hands of people for whom some new clothes will be a welcome treat.
We now understand why Gideon loves his second career so much–imagine being able to spread so much "good" each and every day.