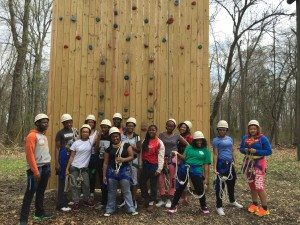 It is hard to imagine that anything positive has come out of the extraordinary tragedy that resulted from the shooting of Michael Brown last August in Ferguson, MO. Even today, eight months later, news headlines continue to share the harsh and difficult realities of life in Ferguson.
But — somewhere in the midst of all the negative reporting there were at least two people who decided that someone had to do something to help save the kids of Ferguson. Dan Grabel and Andy Brown, both social workers and educators with a combined 40+ years of experience in camping and youth work know how important the camp experience can be to any kid, particularly kids raised amidst poverty and deprivation. #Camp Ferguson is their way to try to help the kids who have been caught up in the trauma of Ferguson. Partnering with several local schools, two graduate social work programs and other nearby community organizations, Dan and Andy have already held a few retreats and this past week welcomed 31 high schoolers and 3 teachers to Camp Manitowa (the camp they themselves operate) for some time filled with a ropes course, canoeing, sports, hiking, a campfire and even s'mores! Ongoing contact with the kids will hopefully give some of them a sense that people really do care.
When we learned about Dan and Andy's ideas we reached out and offered to help them as they began the program. With the Good People Fund's support, kids on these retreats will enjoy some great meals along with fun activities and the chance to know that there are people who care.