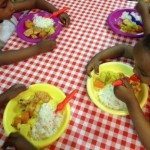 This week, we started our third month of providing lunch to the children. Before we met with you we had planned to provide 3 lunches, for three days, but we could not resist the joy on the children's faces so immediately we changed the order and from week 1 contracted the restaurant supplying us with the food, that we would take 6 days of lunches. The joy of the children is indescribable and so is ours!
The food is rich, nutritious and diversified…It wasn't easy in the beginning. Not all foods were familiar to the children, especially vegetables. But we are not giving up, every child that joins the circle of vegetable eaters brings us great joy, they show us their muscles and understand that only if they eat their vegetables  will they be strong and healthy!
I would like to thank you once more for your support in helping us fund these meals.
This quick email update just arrived and was sent by Carmit Elad, a volunteer for Tzimaon, a Good People Fund Israeli grantee and all-volunteer organization that believes that we should all help those who have less.  It was Carmit's idea to help the children in the refugee ganim (daycare centers) with better surroundings and healthy food. The picture above shows the formerly "white plates" filled with rice or pasta. With our help those plates are now "green" and the "circle of vegetable eaters" is getting bigger every day!