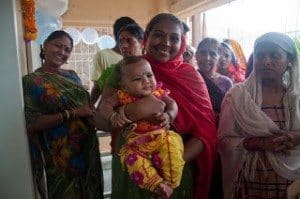 When Jacob Sztokman, founder of Gabriel Project Mumbai (GPM), began his program to address the profound hunger in Mumbai's slums, he never fully realized  how that effort would eventually evolve. When Shravan Sharma, an 11-year-old boy who died last year due to lack of accessible health care in the slums, Jacob's very soul was touched. In the world we all know, 11-year-olds just don't die. It was that event that drove Jacob to find the funds to not only help feed these kids and give them an education but also to provide them with a standard of healthcare not normally found in the slums.
This week, the Shravan Health Clinic opened its doors in the Kalwa slums. A joint venture with Doctors For You, it is expected that children, pre and post-natal moms and others will benefit from this life-saving venture.
We are not surprised. GPM was Jacob's response to the dire conditions he saw in the slums while on business trips to India. This new clinic was Jacob's perfectly normal response to the death of a young child for no good reason.  It's just what Good People do.