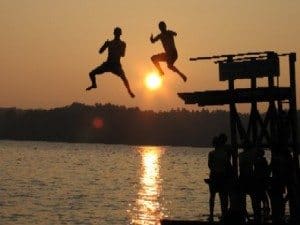 …This time, we would also like to thank the donor who graciously donated money so that my two children can attend summer camp this year. Now, D. and R. will be able to experience their summer vacation as a real vacation, with all of the fun that relates to summer camp activities. As a result of their kindness and graciousness, this summer my children will be able to enjoy, goof off, jump around, splash around, meet new friends, sing and be happy – all because someone special has allowed them to do this.
We love you from the bottom of our hearts and are sending you a huge hug.
Thank you, thank you, thank you
D., R. and their mother H.
When this note arrived today from Big Brothers, Big Sisters in Israel we knew that our tzedakah investment for summer camp was a success in every way. Only a mother can really put into words what camp may mean to their kids. After all, isn't that what it is all about…splashing, singing and goofing off?