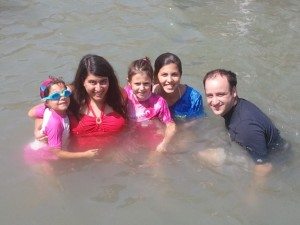 Tucked away in a remote spot near Israel's Dead Sea is a hidden reserve called Einot Tsukim—actually the lowest nature reserve in the world. Filled with pools of natural spring water, we can think of no better place for a group of kids  from Camp Shutaf to escape to during their summer camp experience last month.
When Miriam Avraham and Beth Steinberg, Shutaf's dedicated founders wrote asking if the Good People Fund could possibly cover the cost of a bus that would take the kids on this special outing, who could say no?
The pictures just arrived and it appears that the kids had the best time. Our only regret? Why couldn't we have been there, too?