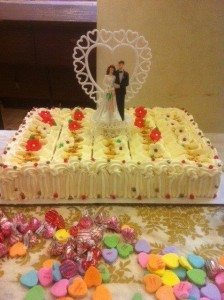 Most of the time we find ourselves sharing stories tinged with sadness or despair. This morning, however, we heard about how a few people came together to    make possible the mitzvah of m'sameach katan v'kallah or rejoicing with the bride and groom.
It all began yesterday when Gideon Ben Ami who spends his days helping Tel Aviv's most forgotten and desperate residents, wrote about a young police officer, an immigrant who came to Israel with no family or friends, and was about to marry. Having very little money the prospective groom and his bride had planned a simple ceremony in Tel Aviv's Great Synagogue with no real celebration to follow.
Here is where the kindness of others turned the simcha into something very special. Coincidentally, Gideon was a guest at another wedding a few days ago and afterward that bride asked him to deliver the leftover food to a nearby shelter. She also asked him to stop by to pick up the remaining candy and snacks. Gideon shared that the candy and snacks would be perfect for this new wedding he had just learned about and was hoping to make a bit more festive. Upon arriving to pick-up the candy he saw that the new bride and groom left not only the food but also an envelope with 1800 shekels and a note directing Gideon to use the money to help make the couple a proper celebration and to present them with anything that was leftover as a small gift.
Needless to say, with Gideon's ingenuity and the generosity of many strangers, the young couple married today and enjoyed a reception replete with gorgeous flowers, fresh pastries of all kinds and this special wedding cake prepared by a local bakery. On top if it all, the couple received a cash gift of almost $250 which represented what was left of the original 1800 shekels.
Mitzvah Goreret Mitzvah-one mitzvah does lead to another!