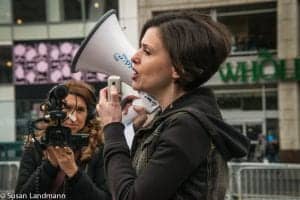 Fraidy Reiss was 19 when her family arranged her marriage to a violent man. With no education or job, and in a religious community where only men can grant a divorce, she was trapped for 12 years.
Reiss became the first in her family to attend college; she graduated from Rutgers at age 32 as valedictorian. She went on to become an investigative reporter at the Asbury Park Press, got divorced and won custody of her two daughters.
In 2011, Reiss founded unchained At Last to help other women in New Jersey and across the United States to resist or escape forced marriages and rebuild their lives. Through Unchained, she has provided crucial, often life-saving services – always free of charge – to more than 500 women.
When girls under the age of 18 started reaching out to Unchained for help, the organization couldn't help them — because marriage before 18 was legal in all 50 states.
Reiss brought her reporting skills to bear, conducting research that revealed an estimated 248,000 children, some as young as age 12, were married in the U.S. between 2000 and 2010. Most were young girls married to adult men. In New Jersey, she discovered, more than 3,600 children as young as 13 were married between 1995 and 2015, over 85 percent of them young girls married to adult men.
Reiss drafted a bill to end child marriages in New Jersey and worked for months to convince two legislators, Assemblywoman Nancy Munoz and Senator Nellie Pou, to introduce it. Her efforts paid off on June 22, 2018, when Governor Murphy signed the bill and made New Jersey the second state, after Delaware, to end child marriage.
On May 3, Reiss was rewarded for her efforts with one of New Jersey's most prestigious honors: the Russ Berrie Making a Difference Award top prize, which includes a $50,000 cash award.
The Russ Berrie Making a Difference Award honors New Jersey's most extraordinary unsung heroes, whose outstanding community service and charitable contributions have made a substantial impact on the lives of others. The awards, established by the late Russell Berrie, are funded by The Russell Berrie Foundation and administered by Ramapo College, with recipients selected by a panel of independent judges. The 23nd annual awards, accompanied by cash prizes ranging from $7,500 to $50,000, were announced at a ceremony at Ramapo College.