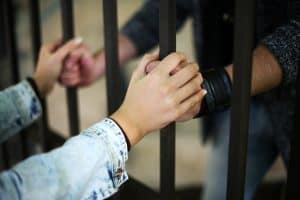 I am a formerly incarcerated Jewish lesbian and the child of two Holocaust survivors. I served time in two federal prisons, including stints in solitary confinement.
On the first day of my incarceration, I requested and was given a Siddur – a Jewish prayer book. By the second day, I began saying the Sh'ma prayer over and over every day.  It took no more than a few seconds to realize why I was repeating the Sh'ma and holding the prayer book. A story my father told me came to mind immediately.
In 1940, after the Nazis conquered Poland and came to power, a Jew carrying a Siddur, a tallit, and tefillin could be shot. Still, my father took his velvet pouch, which held his siddur, tallit and tefillin, to work. A Nazi stopped him, saw the items and decided to make an example of him.
The Nazi summoned other Jews to watch as he beat my father. Summoning his strength and faith, my father looked up to G-d and said, "if you let me live, I will honor you every day through prayer."
He survived 12 labor and concentration camps and was liberated at Dachau in 1945.
As a three-year-old child, I would watch my father prepare to pray. When he put the leather straps around his arm, I ran over held out my arm so he would put them on my arm too. It was my father's absolute joy of davening and lacing up the leather strap on his arm that I remembered. It was his love for Judaism that I saw clearly.
And it was the Jewish values my parents would repeat and model throughout my childhood that stayed with me and were so important during my incarceration, that is, that Jews have a moral obligation to care about the dignity of every person. It was my parents' reminder of our moral obligation that led me to watch, learn and record in my mind everything that happened in prison.
I formed Witness to Mass Incarceration to position the voices of formerly imprisoned women and LGBTQIA people at the front of the movement for alternatives. It was my Jewish eyes, soul and values guiding me.
The American Jewish community knows about mass incarceration but must do more to end it. By allowing incarcerated people to be in prison in 120 degree temperatures with no air-conditioning, by ignoring daily threats of sexual violence, to tolerating prisoner slave labor or, most importantly, by allowing for the over-incarceration and sentencing of people of color and LGBTQIA people is to forget that we are all created in G0d's image, b'tzelem Elohim. 
Being released from prison was harder than being in prison. I was released homeless and penniless. I was given a Greyhound bus ticket and 30 dollars and that was all. There was no place for me to go, no services to help me get housing, a job, a community, and no immediate help for my deteriorated mental health.
Formerly incarcerated people need help on the first day of their release. Current reentry services that have been funded for decades haven't provided the jobs and housing we need.
I ask the American Jewish community to not only make a commitment to end the era of mass incarceration but to welcome home the strangers that are being released from prison.
The task of welcoming home a newly released person is not easy. They start with less than nothing because, in addition to their poverty and homelessness, they have to fight the anxiety, fears and triggers from their incarceration.
Witness partners with Jewish synagogues to meet and greet a newly released person, provide them with a suitcase with critical items and, going forward, a community.
While our "Suitcase Project," as it is called, is an important first step, a much broader Jewish Response to Reentry is a necessary second step, mobilizing the Jewish community to embrace its core values and lessons of its own history with oppression to engage with justice and fairness for others.
In this way, we honor all of G-d's creations – Kavod Ha-Briyot – and repair the world, Tikkun Olam.