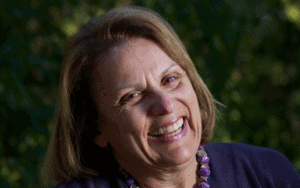 Naomi Eisenberger, executive director of The Good People Fund. (Courtesy)
NEW YORK — As the founding executive director of the Good People Fund Naomi Eisenberger considers her job to be "the antidote to all that's going on out there."
Based in New Jersey, the $13 million fund is a relatively under-the-radar grant-making organization targeting social and humanitarian projects in the United States and Israel. Projects range from helping ultra-Orthodox women in Israel through the divorce process, to making sure homeless shelters get adequate supplies of personal hygiene products. One grantee brings music education to underserved kids in New Orleans, and another helps feed the hungry in Tel Aviv.
"I like to see good people do good things," said Eisenberger, 72, who assumed her role after spending more than 10 years as the managing director of the Ziv Tzedakah Fund.
Eisenberger is also one of the founders of the #GamAni movement, which is the Hebrew translation of #MeToo. The movement was launched in 2016 after a female grantee contacted Eisenberger for advice on how to handle an instance of sexual harassment. Soon after hearing the story, Eisenberger developed a survey with Martin Kaminer, a trustee of the grant making Kaminer Foundation. The nearly 200 responses Eisenberger received convinced her it was time to act. Today #GamAni is training Jewish non-profits on how to properly address and prevent sexual harassment.
The Times of Israel recently sat down with Eisenberger to talk about how she targets her charities, why she believes she has the best job in the world, and what she hopes for her granddaughters and the young women of their generation.
The following conversation has been edited for brevity and clarity.

Naomi Eisenberger, executive director of The Good People Fund, makes a site visit to Kaima and its CEO, Yoni Yefet-Reich, in Israel. The program seeks to give direction and hope to kids at risk through organic farming, leadership development and business learning, and is one of the Israeli organizations supported by The Good People Fund. (The Good People Fund)
The fund works with a broad spectrum of organizations in the US and Israel. What is the common thread linking them together?
Clearly, the common thread is good people. I will often say to people who ask, there are a myriad number of good programs out there that need funding, but for us there has to be that individual, or that small number of people, who have vision and passion.
I can sit down with a potential grantee and know within five minutes if it's going to be a "yes" or a "no" based on their personality and how they present themselves. Sometimes there's too much ego and I'll pick up on that right away. Generally speaking, these are just ordinary people. These people are our guides on how to live a good life.
People might be surprised to learn not all of the GPF grantees are Jewish, and that not all of their clients are Jewish.
We are an organization based in Judaism. We're guided by Jewish thought. As much as we are commanded [by Judaism] to help everybody, we do. Obviously the programs in Israel are Jewish, but they need to be open to everybody. Some of them are clearly self-selecting, such as programs that deal with ultra-Orthodox women. Of course there's not going to be any non-Jews in there.
I don't think I've ever gotten a donation that said "Use only for Jews." I have gotten donations that said "Only use for Israel," or, "Don't use for Israel," but I think everybody understands we are here for everybody. We fund things that are Jewish, we fund things that are synagogue based and we fund things that are church based. We are ecumenical.
I have a tendency to want to help people who have fewer resources than others. It's just how I was raised. It was what I saw at home. My parents were very involved as volunteers. My father was president of the synagogue and he was a volunteer fireman and he was president of his Kiwanis. It never dawned on me to do anything different, and I hope I have passed that on to my kids.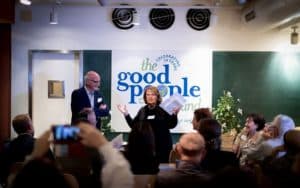 Naomi Eisenberger, executive director of The Good People Fund, addresses heads of grantee organizations in Israel at a 10-year anniversary gathering and celebration in February in Tel Aviv. (The Good People Fund)
In a headline driven culture where big donations and big organizations get the attention, can you speak to the philosophy of micro-philanthropy and how that can be a model for people looking to make a change?
I never look at the glass half full. I abide by the premise that small things can make a significant difference.
When someone asks me to explain the Good People Fund I use the starfish parable. There's a grandmother and grandchild walking on the beach and there are a thousand starfish on the shoreline. The grandchild starts throwing them back in the water, one at a time. The grandmother says, "Why are you doing that? You'll never get them all back." And the kid says, "But it makes a difference to the ones that I did throw back."
That's how we look at this, changing one life at a time. That is always what guides me.
People who want to put their names on buildings are not going to understand us. We deal with modest sums of money. At tops our grants are $15,000 to $20,000. For small organizations that's a good deal of money. We're not dealing with people who have millions to give away.
The #GamAni movement has been described as a #MeToo movement among those doing Jewish communal work. Is that an apt description?
I'll preface it by saying #GamAni is indicative of where I think we, as an organization, should be. I see us as partners with our grantees. So this young woman had just come back from coffee after meeting with a potential donor and he had accosted her. She didn't know what to do. She felt horrible, she felt dirty. She reached out to me.
I felt personally tied to the issue because she was my grantee. So I started looking into whether anything had been done on harassment. I couldn't let it go and I called Martin [of the Kaminer Foundation]. We put together a questionnaire and the responses absolutely raised the hair on the back of our heads like you would not believe.
The private #GamAni Facebook page allows a common place for people to share experiences. I know a few perpetrators have been identified, but they have not been dealt with yet. [Eisenberger declined to divulge names as the Facebook page is a closed group.]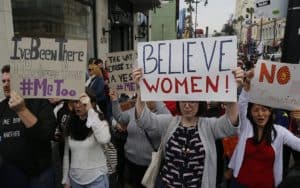 Participants march against sexual assault and harassment at the #MeToo March in the Hollywood section of Los Angeles on November 12, 2017. (AP Photo/Damian Dovarganes)
A very significant issue of sexual harassment in the Jewish world was uncovered, but what is happening is no different than what is happening on Wall Street, what is happening in the media, really what is happening everywhere.
But do I equate this with the #MeToo movement? No, and I'll tell you why. I have a lot of concern about the #MeToo movement and the excesses of it. There have been a lot of people drawn and quartered who I think should not have been.
What progress has #GamAni made and what pushback have you received for it?
I apprised my board from day one and told them if you want me to step back I'll step back. But, because we are part of the communal world I don't see this as a disconnect for our mission.
I did have two donors who expressed displeasure that we are doing this. Both of them equated it with #MeToo and the excesses of #MeToo. I explained it overlaps with our work, and that I could not step away from this any more than I could step away from our other work. I was taught to be this way and this is the way I live my life.
For the most part the organized Jewish communal world has gone along with it. I think some of the organizations may not be going along happily, but they are going along because they saw the train has left the station on this.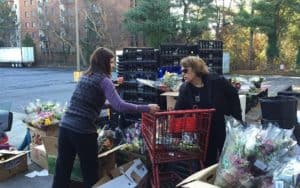 Naomi Eisenberger, right, executive director of The Good People Fund, helps in food rescue efforts of one of the group's non-profit partners, Second Helpings Atlanta. (The Good People Fund)
One of the things we did was to bring some training to Jewish communal organizations, some of which are very small. Last December we had 12 New York based organizations for a daylong training. The ultimate goal was for them to develop their own policies. Most had none in place, or the policies weren't adequate. It was uncharted territory for them.
There is a call for more women in leadership roles, but having women at the top doesn't guarantee the culture will change. How do you really change the culture?
This is an evolution. I'm hoping by the time my 16-year-old granddaughter, or maybe my 12-year-old-granddaughter, reach the workplace they will start to benefit from what their grandmother was part of. When I look at myself, and think "How did you get here? What does it matter at 72?" First of all being a victim myself has driven me. That's near the top. Also, I'm always looking for the underdog. It's just who I am. It's always where I'm going to go.
Could it have been professional suicide to do this [#GamAni]? Maybe, but I'd like to hope there are a few good people left in this world and I believe that there are. Truthfully, what I do every day is what keeps me going. There isn't a bad moment in my day, and who has a job like that?