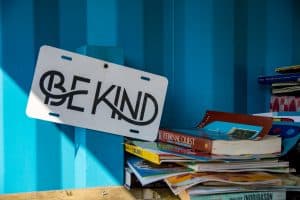 Braddock was once a thriving community in the heart of Pennsylvania's steel industry. Today, this Pittsburgh suburb has fewer than 3,000 residents, most living well under federal poverty guidelines. Gisele Fetterman and Kristen Michaels have made it their business to promote "good" throughout their community, proving daily the rewards that can come from this attitude.
Free Store 15104 is an integral part of For Good's programming. Brightly painted shipping containers provide residents with clothing, food, housewares, diapers and formula, much of it donated directly by manufacturers and local businesses. The sign posted outside the structures indicate exactly what drives the program: (1) Be kind (2) Take only what you need (3) Pay it forward.
The Hollander Project, begun in 2018, is housed in what was once Hollander Pharmacy. Today, the building is a co-working space for local entrepreneurial women, and also the site of community events and wellness initiatives. Additional programs include addressing gun violence and the needs of foster kids, as well as offering coding for girls and creating green spaces.
Our funds underwrite repairs to the Free Store 15104 trailers.