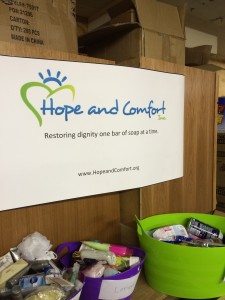 Over 573,000 hygiene items – that's a lot of toothpaste, toothbrushes, deodorant, soap, and similar products – have been distributed in the last eight years in the Boston area to those who otherwise go without.  After learning that many in the community needed these items, Jeff Feingold (with his wife Loren) founded Hope and Comfort and have been bringing these essentials to thousands of people. Jeff's business acumen enabled him to address a tough and mostly invisible problem – lack of personal hygiene products for people with limited income – and create an effective and far-reaching system to meet their needs.
As a society we are sensitive to the need for food, shelter, and even clothing, but somehow the need for basic hygiene products is often overlooked. The federal food stamp program doesn't cover the purchase of these items, making it harder for people to maintain basic dignity, improved health, confidence and self-esteem.
 As Jeff says, Hope and Comfort will continue to make a difference "one bar of soap at a time." Our funds are used to further develop the organization's volunteer program.