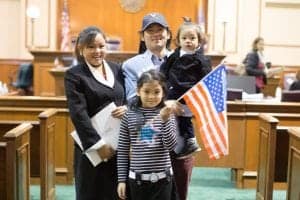 Over the past 20 years, thousands of refugees have resettled in Charlottesville, VA — representing 31 nationalities, they are six percent of the local population.  As a teacher, Kari Miller saw first-hand the many struggles of refugee students in her ESL classes – some as basic as choosing proper clothing and other more complicated challenges faced by people trying to adjust to a new culture, such as skills building, health care, and forming friendships and networks.
Kari began International Neighbors in 2015 to raise community awareness of the unique challenges facing these new residents – many worked at U.S. Armed Forces facilities in their native countries – and how they could be assisted.  IN's enthusiastic cadre of over 300 volunteers have committed more than 21,000 hours to helping their new neighbors as they assimilate.  Said one grateful recipient: "International Neighbors gave us curtains on the windows one day. But they give us friendship every day."
A GPF matching grant funds a part-time program director to help these new residents acclimate.