Alternative Learning through Social Experience and Agriculture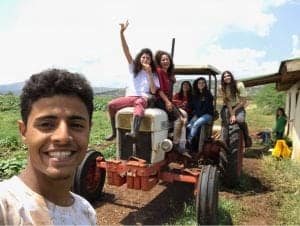 By the time 17-year-old Ido* reached the Kaima Hukuk farm, his parents and the youth authorities had given up on him. His violent tendencies led to criminal charges but his social worker would not give up. As Ido began his work toiling in the hot sun, it was as if something within him switched on — and fueled his will to change and belong. Ido quickly accepted the challenge of taking on a project to plan and build a vegetable washing station now in use on the farm – giving him a sense of accomplishment.
It was for kids like Ido that Efrat Noy and several educators and social workers from a remote area in Israel's North adopted the Kaima model to become the second franchise farm. The founders' passion for activism, farming and helping others turned it into a successful alternative classroom where nearly 60 kids have experienced the fulfillment and success that result from combining education and farming.
Our funds were used to purchase banana netting that provides shade for young crops and produces greater yields.
* not his real name