Music Mends Minds
Music as Alternative Therapy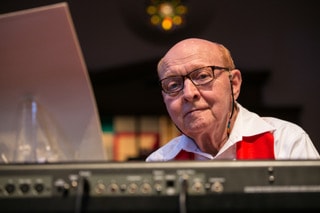 More than six million Americans live with Alzheimer's. Until recently Irwin Rosenstein ( z'l) was one of them. More than a statistic, he was Carol's beloved husband and inspiration. Seven years ago, when she saw the positive effect playing the piano had on him, she brought together the 5th Dementia Band, and the rest is history. A neurodegenerative diagnosis results in depression, anxiety and feelings of isolation for both the patient and their loved ones. Based on scientific research, MMM's innovative therapy and musical support groups — as well as 20 bands across the US and overseas — improve quality of life for all.
During the pandemic MMM pivoted to online Zoom sessions, vastly increasing the number of participants. "What the world needs now is music. Music is medicine for the mind," says Carol. "We can bring such happiness and hope in this moment of relative despair."
Our funds help underwrite the cost of a music therapist.
---
Music Mends Minds has been featured on our podcast