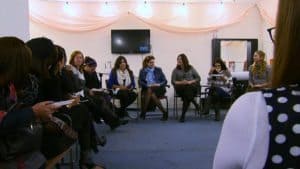 Estee Shushan is one of thousands of Haredi women with voices that need to be heard. Before the 2012 elections, she started a Facebook campaign asking the public not to vote for parties that exclude women. That resulted in a full-fledged movement headed by Estee and now others who have been inspired by what she has accomplished.  Her years of raising awareness, lobbying and advocacy efforts led to the creation of the Knesset Caucus for Haredi Women, and regular participation in various Knesset committees.
Nivcharot provides training, leadership, and skill building opportunities for Haredi women no longer happy with the status quo.  Through exposure to more modern feminist thought, public speaking workshops, and more, these women are finding their voices. Two "graduates" of their courses have even run in municipal elections while still others are involved in various political initiatives.
Our funds help underwrite leadership training.