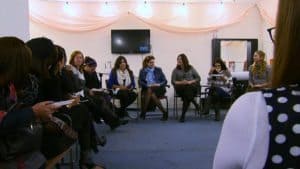 It all began with a Facebook campaign. Frustrated by the lack of women's representation in the Israeli government's religious parties, Esty Shushan discovered she was not alone and founded Nivcharot (No Voice – No Vote), the first and only organization of its kind in Israel. Nivcharot's advocacy training and leadership seminars encourage Haredi women to "find their voice" in public, social and political life. As one participant shares, "I want to be a part of a people, a community…I also acquired a community of women like me, who aspire to do good in their sector and beyond."
Once considered taboo, Nivcharot raises awareness and allows for open conversations on once-taboo topics such as divorce, birth control and arranged marriage. Despite an ever-changing government and Covid, Esty
and the women she has inspired continue continue to be a driving force for change.
Our funds help underwrite the cost of the women's symposium.