Lighting the Way After Hurricane Maria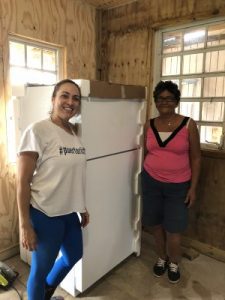 In September of 2017, Hurricane Maria wreaked havoc through islands in the Atlantic.  Puerto Rico native Erika Velez recovered fairly quickly, but she learned from a Facebook post that there were people nearby who had lost everything and were sitting in darkness.  Some had even gone for days without food. She quickly messaged her friends and soon had a dedicated corps who gathered food and other essentials and traveled to areas where help had not yet arrived.
Puerto Rico Lit started by serving those 50 families and still continues its work two years later. People in the central part of the island have had roofs repaired, rusted and useless appliances replaced and, perhaps, most important, are assured they have not been forgotten despite the passage of time.  GPF funds have helped with the costs of appliances and building materials.