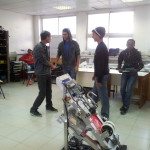 I don't know about all of you, but the idea of having a robot around right now to help clean the oven or polish the silver is a welcome thought.
Several months ago we were introduced to Eli Barak, an Israeli who advises (as a volunteer) an award-winning regional robotics team comprised of students from three high schools. This team, like dozens of others in Israel and around the US and Canada compete in an annual robot-building contest where finalists are sent to a competition in St. Louis, meeting participants from 60 regions.
Eli's team has always had great success in these competitions and this year decided that the team would mentor two other teams, one from Shapira High School in Netanya where 75% of the population is Ethopian Israeli. Despite having a fairly good science program, the high school is unable to provide the funding for the robotics competition and parents, most of whom live in extraordinary poverty cannot help.
For a program that fosters mentoring, physics, mechanics, electronics, strategy, R&D management, cooperation and more the Good People Fund felt that partnering with some Israeli resources to make this program possible was a great tzedakah investment.
Now…if we could just get that robot here…