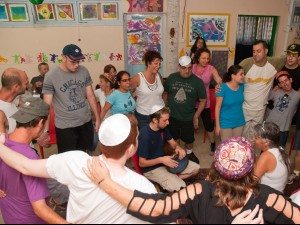 …just picture the best prayer you have ever experienced, with the most spirit.
I think that is why I do what I do. There is SOMETHING very, very spiritual and pure and joyful in watching someone who has (experienced) so many stumbling blocks in life, and then they are able to fly.
The song was joyful, ecstatic.
THANK YOU!! GOD BLESS YOU.
Rabbi Judith Edelman-Green has been passionate about creating a community for Israeli adults with special needs for many years. She founded and for several years directed the country's Bar/Bat Mitzvah for the Special Child which provided religious training and Bar/ Bat Mitzvah experiences for special needs children. Today her focus is on the Rimon Community project which is building a true kehillah (community) for this group. While long range plans call for housing and work opportunities we loved Judith's idea for Kulanu K'Echad (we are all one), a monthly Shabbat (early Friday afternoon) service. Filled with music and prayer, challah baking and Kiddush, Judith envisioned a joyful experience for everyone taking part.
With the Good People Fund's financial support the very first Kulanu K'Echad took place this past Friday and from the pictures Judith sent as soon as Shabbat ended, we see that it was indeed a joyful experience and we could not think of a better tzedakah investment.