We met Hannah Tomaskovic and her Mom last winter at the Barnert Memorial Temple (NJ) Mitzvah Mall when they stopped by to learn more about our work and to discuss ways she could make her upcoming Bat Mitzvah project meaningful.  As you can read in the letter posted here, our conversation with Hannah led to a simple but important project that taught her that even seemingly simple things like soap and toothpaste can have a profound impact on someone's life, or as Hannah writes, "Helping people, possibly even kids like me, have the items necessary to get clean and feel proud to be clean, is important."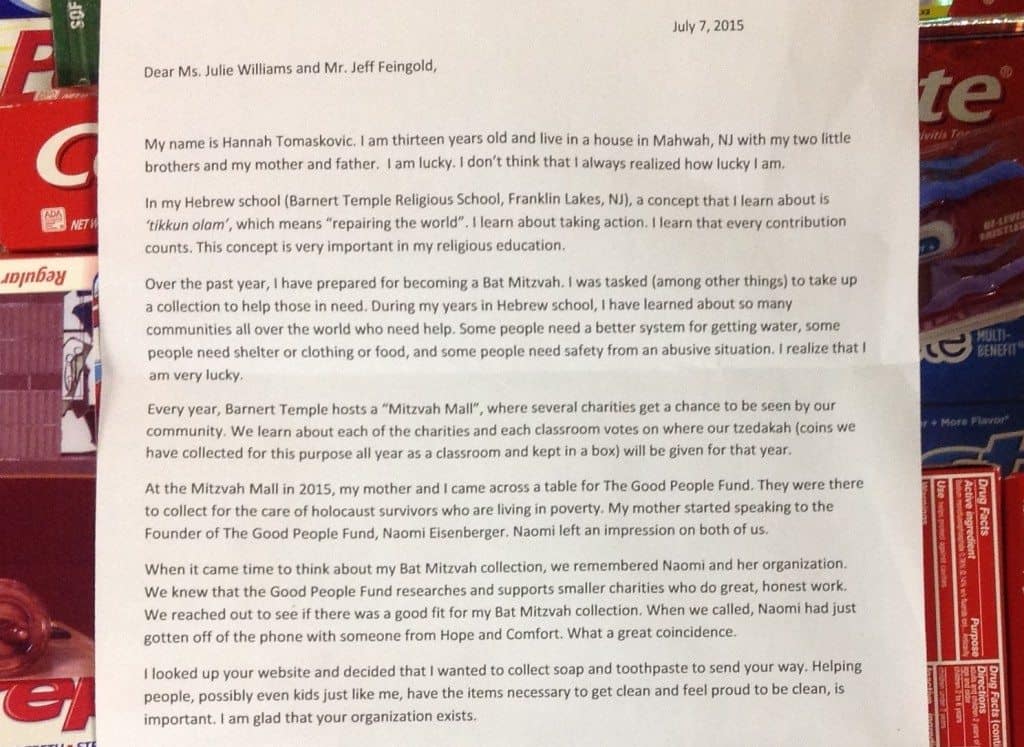 We connected Hannah to one of our newest programs, Hope and Comfort, started by Jeff Feingold, a Boston-based executive looking for a way to turn his toddler's upcoming birthday celebration into more of a "giving back" event than the traditional "giving gifts".  Rather than have guests bring the usual clothing, toys and games Jeff and his wife asked that everyone bring new items that would be donated to a local agency. When the Feingold's delivered their guests' generous donations they learned about the shortage of toiletries available to families in need and it was that information that inspired Jeff to begin Hope and Comfort in 2011. Today, the organization not only collects and distributes vital personal hygiene products to local (and national) agencies but also partners with Boston-area schools that offer health classes that focus on personal hygiene as well.
We are proud of what Hannah accomplished with her project and know that the cases of soap and toothpaste she sent to Hope and Comfort will go a long way in helping people "feel proud to be clean."
Think about the importance of Jeff's efforts the next time you exit the shower feeling clean and refreshed…pretty good, huh?