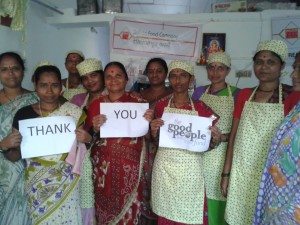 They are so inspirational! They are illiterate but learned to weigh ingredients and how to record their income/expenses, they were disempowered and marginalized but now run their own company and raise their heads with pride!
Jacob Sztokman's Gabriel Project Mumbai, helps to alleviate hunger for hundreds of children in the Mumbai slums while at the same time offering women there the opportunity to prepare the meals and provide income for themselves and their own families. Last month we wrote that rather than have the women prepare the food in their homes, a central facility had been found and all that was needed was some equipment to get the women started in their own business. The Good People Fund provided the funds for that equipment and this morning we received this great picture. As Jacob shared with us…"One woman was amazed that people they have never met are helping them set up their kitchen. I told her that we are all partners here in providing the children with nutritious food and for the success in their community run business…"
Hungry kids are fed. Women are empowered. What better way to invest our tzedakah?