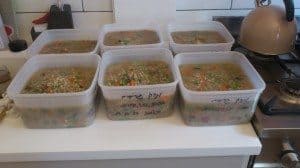 Here in the Northeast cooler weather has finally arrived. In Tel Aviv a similar change to lower temperatures has also kicked in and that has gotten our friend Gideon Ben Ami thinking about a new and healthier way to help feed hungry people. Gideon spends a good part of his day driving from bakeries to supermarkets and other food purveyors, picking up donations of leftovers which he immediately delivers to local shelters in the area.
While the breads and cakes and bourekas he collects can certainly serve as nourishment for people who have little to eat, the carbs and sugar are most definitely not the healthiest fare to offer. A restaurateur for most of his life, Gideon decided that a rich, flavorful soup would be so much healthier and so he purchased several large soup pots and enlisted a group of volunteer "soup-makers" who have agreed to prepare at least one batch weekly (some are doing even more). The soup is then delivered to the appropriate shelter.
Word has it that this new experiment has received a very positive response. At a cost of less than 30 shekels (less than $10), a healthy alternative food choice is now available. Judging by this picture Gideon just sent we cannot help but agree. It sure doesn't look like Campbell's!