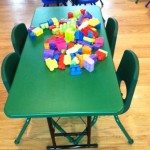 There was very little that Hurricane Sandy left untouched in its wake last October. We knew that months after the storm's passing we would have more needs to try to cover than we could possibly handle ourselves. One of the more compelling requests came from a tiny community-organized Pre-K in Broad Channel, Queens. Ali Kase, our contact there, comes from a third-generation family and her knowledge of the community's needs have been so important to our work.
When we learned of the Broad Channel Pre-K's loss of all equipment we knew that this parent-led venture could use our help. With no insurance, rebuilding their 30+ years of work would not be easy.
With the help of our Good People Fund donors we were able to arrange for the delivery of a full set of table and chairs, each in a bright primary color.
Today the kids are back in school and from the looks of the pictures we were sent, are more than happy with their new seating arrangements.