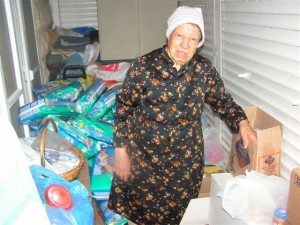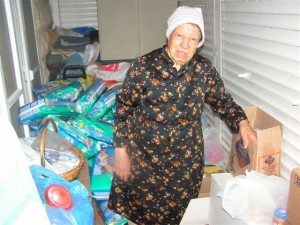 "Extraordinary"…a word we use often, perhaps too often. Defined as remarkable, exceptional, amazing, astonishing, astounding, incredible, unbelievable, phenomenal — extraordinary should be reserved for that rare something or someone  we come upon but a few times in life.
The Rabbanit Bracha Kapach, z'l, was one such extraordinary person and today, at the age of 90, the Rabbanit has died and left behind an unsurpassed legacy of mitzvahs and gemilut chassidim almost too complex to describe. The legendary Pesach food packages distributed to thousands of people each Spring; brides too poor to have their own wedding gown could always count on the Rabbanit's "bridal salon"; her camp for kids who would otherwise have no summer fun; school supplies, clothing, weekly Shabbat food; words of wisdom for those lost and distraught…the list is endless.
Over the span of more than 20 years I sat in the Rabbanit's living room on each of my Israel visits, among the artificial flowers and hookah, the cookies from the shuk and bottles of soda and Prigat juice, and held her hand. You see, we had no common language and yet there was a deep, deep love that flowed from one to the other. My Ivrit is pathetic but her English was worse! Whenever we met and hugged she would tell me proudly, "I love you." And I loved her for everything that she did, for her unceasing energy and passion for helping everyone. There was always a never-ending line at her door — Jerusalem's castaways never left without some sustenance or monetary help. That was just the way it was supposed to be and when I would remind her that these mitzvahs cost money that she sometimes did not have, her answer was always the same…"Hashem ya'azor"…God will provide. And…she was right.
It was my first meeting with her that I came to understand the Hebrew word "ziv",  for she radiated all that was good and just and right. I have often wondered if her eema, Naomi, had some premonition when this child was born and so gave her the name Bracha–for indeed, she was a blessing to everyone who knew her.
May her memory be for a blessing.
http://www.jta.org/2013/11/26/news-opinion/israel-middle-east/remembering-rabbanit-bracha-kapach-lifeline-to-jerusalems-poor-and-israel-prize-winner