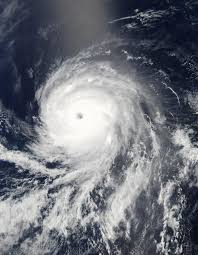 It seems that nearly every August, when our family travels to the Jersey Shore, we get the chance to watch horrific destruction unfold somewhere as hurricane after hurricane rolls in at summer's end. One year, it was Katrina, and we thought we would never see anything so devastating again. A few years ago, we ourselves became the victims as Hurricane Irene roared up the coast and sent us all packing.
And now we are all transfixed by the severe damage and trauma that Hurricane Harvey is bringing to Texas and the Gulf Coast. Seeing the images and reading the news, we are horrified but also heartened by tales of bravery and humanity.
We have reached out to our three grantees based in the area and all of them have reported back that they are safe. Teresa O'Donnell, founder of Plant It Forward, which works with refugee farmers, is secure in her home at the moment, but is trying to reach out to the organization's "farmer families" to ascertain their welfare.
Rabbi Amy Weiss, founder of Undies For Everyone, is safe, though her message left us overwhelmed: "Unfortunately, we have lost the house, probably most of the things in it. People in the neighborhood are being rescued by helicopter. There are literally swarms of fire ants, snakes and alligators in the waters."
Yan Digilov of Firestarter, another organization working with Houston's enormous refugee population has just checked in and reported that he has gotten to a safe place as have some of those refugees we have been helping.
We know that human nature is such that everyone wants to help now.  As we have in the past, The Good People Fund will rely on those we know and trust on the ground to tell us where verified needs are most critical.  This takes time.  But when the time comes, we hope you will support us as we help those impacted by the storm.