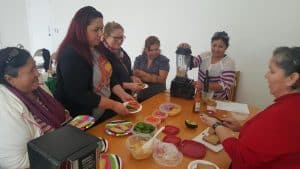 She described some health challenges that she believes developed due to years of not-so-great eating habits, like drinking a couple of liters of soda every day and eating lots of fast food.
But she could easily host her own healthy eating show now if she wanted, fluent as she's become in the terminology and practice of controlling portions, reading and interpreting nutrition and ingredient labels, and getting the best healthy bang for every food dollar she spends.
"I've come a long way and this program has been amazing and life changing for not only me, but for my family," she said. "We are on the right path now."
This 40-year-old mother of three, who lives in New York City's East Harlem, is one of about a dozen adults who graduated this past spring from a 12-week program designed to examine their food stories and equip them with the knowledge, motivation and support to alter default behaviors and make better food choices.
The program is an initiative of FEAST (Food, Education, Access, Support, Together), a Los Angeles-based organization that not only advocates for food security for vulnerable populations, but also runs community-based wellness programs, like the one in East Harlem, to empower individuals and families, many of them low-income, to navigate what can be a confusing, defeating and fatal ecosystem of food and choice.
FEAST, formerly known as Groceryships, is a grantee of The Good People Fund, which has supported the expansion of the wellness program and outreach to New York City.
"This is a program that is changing lives and futures in a holistic way," said Dana Rizer, FEAST's executive director, who has a Master's degree in Food Studies from New York University and co-authored the organization's curriculum with FEAST founder, Sam Polk. "With Good People Fund support, we expect that our impact in New York will continue to grow."
The graduation in East Harlem in the spring was one of three that took place in New York, along with one in Brooklyn and one in Queens that collectively recognized 30 participants.  At PS 112, where the program took place and where most of the participants have children attending school, some students celebrated with their parents.
One participant, a mother of two pre-teenage boys, said the program had done nothing less than enhance family dynamics and connection as she discusses food choices with her sons, goes food shopping with them, and makes eating together a more communal and regular affair.
"We are having conversations at home now about what we are eating and why we are eating it," she said. "And we are sitting around the family table more now sharing food and stories, and my older son wants to even do some of the cooking now. It's been transformative in ways I couldn't have seen."
To FEAST, that is, in fact, the entire point, recognizing that food can and should be a connector within families and communities, with the power to sustain, nourish and strengthen not just the person consuming it.
The challenges are enormous, Rizer said, as people's food choices are so often mired in culture, income status, fads, body image, family history, and, especially in economically challenged areas, all-important access.
"Thanks to the success of food marketers and lobbyists, the overall system is set up so that people too often are misinformed, and fail to know how to make the right choices," she said.
"We are trying to break through that, not only through education but also through a deliberate support system that allows participants to set goals and come back every week to report back, celebrate successes and troubleshoot problem areas. Taken together, it makes an enormous difference with numerous ancillary benefits."
Tom Colicchio, the celebrity chef and restaurant owner, who has been an outspoken advocate in communities and on Capitol Hill for food justice issues and for the FEAST approach to food education, attended the East Harlem event to underscore his support for the grassroots work that is often necessary in economically challenged neighborhoods.
"FEAST is the missing link in just so many ways here and elsewhere," he said. "We are two generations removed from the Depression, when our grandparents and great-grandparents cooked everything.  Now we are around fast food and convenience stores and no one knows how to find the proper food and cook it.
"But once you know how to cook, then you can stretch the dollar, know what healthy means, and make better choices and have an impact on yourself and your family and its health.  It's a way to take control and take back a piece of your life. This program is making that happen."
Graduates of the East Harlem program said they will remain a support group beyond FEAST, yet another trickle-down benefit from their months-long class.
"We have come together and supported each other through change," said one. "There's no telling what we can do to improve others' lives too."
By H. Glenn Rosenkrantz, for The Good People Fund