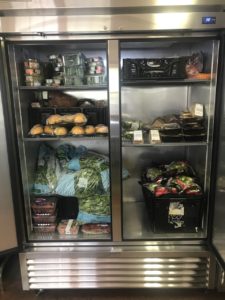 We recently checked in with Joe Labriola, executive director of Second Helpings Atlanta (SHA), one of our Georgia-based grantees making a significant impact on hunger in Atlanta and its suburbs. In the past few years, SHA's growth has been enormous, as they attract more food donations–from local corporate cafeterias, supermarkets and beyond–and utilize dedicated volunteers, who deliver those leftovers to nearby pantries and soup kitchens, where healthy food is distributed to hungry Atlantans.
In the course of our conversation, Joe mentioned the many food deserts that exist within greater Atlanta. Yes, even today there are places where fresh food is just not in abundant supply. Joe's comments made me wonder what modest investment could be made so that one of these small local pantries could better avail themselves of SHA's bounty. After some investigation, Joe shared that a tiny food pantry in nearby DeKalb county could not afford proper refrigeration, which would allow them to accept more fresh food items. With our modest investment of $3,200, Sarah's Closet, a pantry that struggles to provide for its hungry neighbors, is now the proud owner of this beautiful commercial refrigerator–soon to be filled with lots of dairy products, veggies, and meat.
A tzedakah investment with a significant pay-off–well worth making!